Dispensing good red wine from a plastic bag for a romantic dinner? The mere thought makes many wine drinkers' hair stand on end—and wrongly so! Lieb Cellars, based in Suffolk County, New York, is demonstrating that premium wine can also be packaged in alternative packaging formats like flexible bag-in-box, cans, and even kegs too! Lieb Cellars offers six wine varietals of its Bridge Lane label in 3-liter bag-in-box packaging, supplied by Rapak®, part of TriMas Packaging. The flexible packaging solution is not only a more sustainable and cost-effective alternative to glass bottles, but it also protects the wine optimally and increases its shelf life.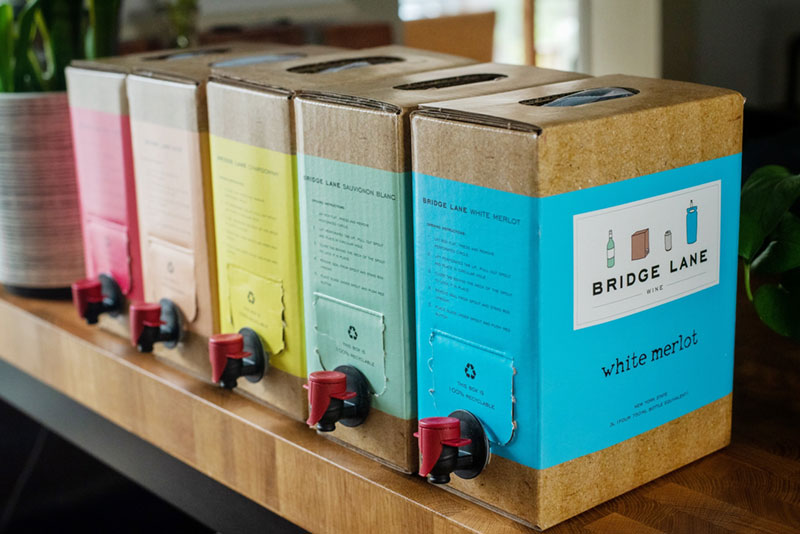 Not far from the Long Island Bay, Lieb Cellars is nestled between vineyards and green meadows. It was founded in 1992 by Mark Lieb and has grown from a modest 2-acre vineyard to a winery with three vineyards totaling 54 acres, two tasting rooms and a cellar. Lieb Cellars is known for its sustainably produced still and sparkling wines. Under the guidance of experienced vintner Russell Hearn, the 35-year-old vineyards have produced nationally acclaimed and award-winning wines. Bridge Lane wine was introduced as the second label for Lieb in 2004 and has brought great success to the company with its alternative wine packaging solutions.
Transport with reduced risk: Thanks to bag-in-box
Since the COVID-19 pandemic, the winery has experienced increased demand from the e-commerce sector. General Manager at Lieb Cellars, Ami Opisso explains: "This type of packaging is easier to handle in terms of logistics. It not only requires less sourcing of materials than bottled wine (bag and cardboard only vs. bottle, label, cardboard, and cap), but glass bottles can break during shipment to direct-to-consumer (DTC) customers. With bag-in-box, we see almost no breakage." However, the American company quickly realized that it was not satisfied with the quality of its former bag supplier and turned to Rapak.
The Rapak solution
Rapak offers a wide range of barrier film technologies to protect liquids from UV light and oxidation. Films include multi-layer coextruded oxygen and moisture barrier films, laminated high performance metalized substrates, and the newest product offering, a coextruded Nylon-EVOH film available in 1.5L, 3L, and 5L sizes.
"We understand how important the shelf life of premium wine products is. For Lieb Cellars, we used a specially designed Nylon-EVOH coextruded film for their bag-in-box solution, which provides excellent oxygen barrier and high puncture resistance," says Ken Micnerski, Retail Channel Manager, Wine and Oil, at Rapak. Compared to bottles, bag-in-box wine is also impressive in other respects. The product contact surface of the film was designed to be taste neutral and retain the important aromas and notes of the wine. The film was also engineered with the best flex crack resistance to protect the high-quality product during transport. The film in combination with the iTap dispensing tap, a high flow one or two finger dispense tap, provides excellent oxygen barrier, good directional flow, and easy dosing by the consumer. With bag-in-box, wine remains fresh even four to six weeks after opening.
A more sustainable packaging option compared to glass bottles
Sustainability is at the core of Lieb Cellars. In 2018, Lieb Cellars became certified sustainable by Long Island Sustainable Winegrowing, and packaging wines in eco-friendly containers, like bag-in-box, that greatly reduces carbon footprint, is an important initiative. Bag-in-box weighs less than a glass bottle, so up to 20 percent in energy costs can be saved during transport. The box is made of cardboard and is therefore 100 percent recyclable.
Today, Lieb Cellars fills and sells their wine from six grape varieties in 3-liter bag-in-box packaging. Ami Opisso asserts: "These are the same high-quality wines that our customers have come to know and love in glass bottles. But with the new packaging solution, they can pour themselves a glass of wine on day one and, thanks to the dispenser and product-protecting film, it still tastes fresh after 30 days. We are very pleased that the collaboration with Rapak has been so successful."


---

About Lieb Cellars & Bridge Lane Wine
Founded in 1992, Lieb Cellars is a 54-acre sustainably farmed vineyard and winery located on the North Fork of Long Island, 80 miles east of New York City. The company produces hand-crafted estate grown wines under the Lieb Cellars label and fresh, fruit-driven wines under their (second) Bridge Lane label. Pinot Blanc is their signature wine and has been called "excellent" by the New York Times. The Bridge Lane series is offered in traditional glass bottles as well as three "alternative" formats – 375ML cans, 3L boxes and 20L disposable kegs, all "firsts" for New York. Lieb has two tasting rooms on the North Fork of Long Island and their wines are distributed in 15 states and growing.
For more information, visit www.liebcellars.com and bridgelanewine.com.



About TriMas Packaging
TriMas Packaging, which consists primarily of the Rieke®, Taplast™, Affaba & Ferrari™ and Rapak® brands, designs and manufactures specialty dispensing, closure and bag-in-box products for applications in the Beauty & Personal Care, Food & Beverage, Pharmaceutical & Nutraceutical, Industrial and Home Care end markets. With approximately 2,000 dedicated employees and 20 locations globally, TriMas Packaging's products include: Dispensing products such as foamer pumps, lotion pumps, fine-mist sprayers, trigger sprayers, beverage dispensers and flip-top caps; Closure products such as beverage and tethered caps, aseptic caps, sport caps, flip-top caps, packaged food lids, child-resistant caps, tubes, jar and pail closures, as well as a variety of related industrial products, such as drum closures; and Flexible products and bag-in-box solutions, including flexible bags, taps and fitments, and filling equipment. We also specialize in products to meet our customer's e-commerce and sustainability needs.